This article or section is a stub. It needs to be expanded and improved. Help out The Skybrary by contributing to this article or section by bringing it up to a more stable cruising altitude.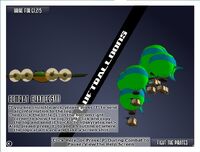 In-game description
Edit
Floating in the summer sky, these scouting balloons have teamed up to seek revenge on those who thought them easy prey!
Combat info
Edit
A Legendary Combat consisting of 9 Scouting Balloons. This should pose no threat whatsoever to any vaguely competent Skyrate.
Ad blocker interference detected!
Wikia is a free-to-use site that makes money from advertising. We have a modified experience for viewers using ad blockers

Wikia is not accessible if you've made further modifications. Remove the custom ad blocker rule(s) and the page will load as expected.