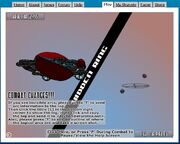 Hidden Fleet Legendary Combat: Hidden Ring
In-game Description
Edit
Perhaps the most strange and most deadly of the Fleet's range of smaller planes. This object seems equipped with no guns, yet it seems to project waves of devastating energy at anything that comes close to it. Highly dangerous.
Combat Info
Edit
Further Info:
Edit
This combat is notable for the appearance of a Ring Plane, a new Hidden Fleet plane.
It flails three arcs around itself while flying in the same style as an X-36 Type Plane. Because of this, larger airships and planes may find themselves particularly vulnerable as all three arcs can track a target simultaneously, inflicting massive damage. A vicious dog-fighter, this plane should not be underestimated.
Ad blocker interference detected!
Wikia is a free-to-use site that makes money from advertising. We have a modified experience for viewers using ad blockers

Wikia is not accessible if you've made further modifications. Remove the custom ad blocker rule(s) and the page will load as expected.