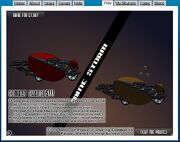 Hidden Fleet Legendary Combat: Mine Storm
In-game Description
Edit
A dangerous wave of mines deposited by some hidden mine ship. If it can be found, perhaps the waves of mines can be stopped.
Combat Info
Edit
1: Hidden Fleet Bismarck
1: X-36 with Y-shaped arc
5: Long Arm Mines
5: Proximity Mines
Further Info:
Edit
The Mine Storm can become a difficult or even down-right nasty combat for every pilot.
Skyrates who fly planes with short arcs may have no problem taking out the Hidden Fleet Bismarck and the X-36. The mines, on the other hand, may be a more difficult target for planes with short arcs, especially when they accumulate.
Ad blocker interference detected!
Wikia is a free-to-use site that makes money from advertising. We have a modified experience for viewers using ad blockers

Wikia is not accessible if you've made further modifications. Remove the custom ad blocker rule(s) and the page will load as expected.